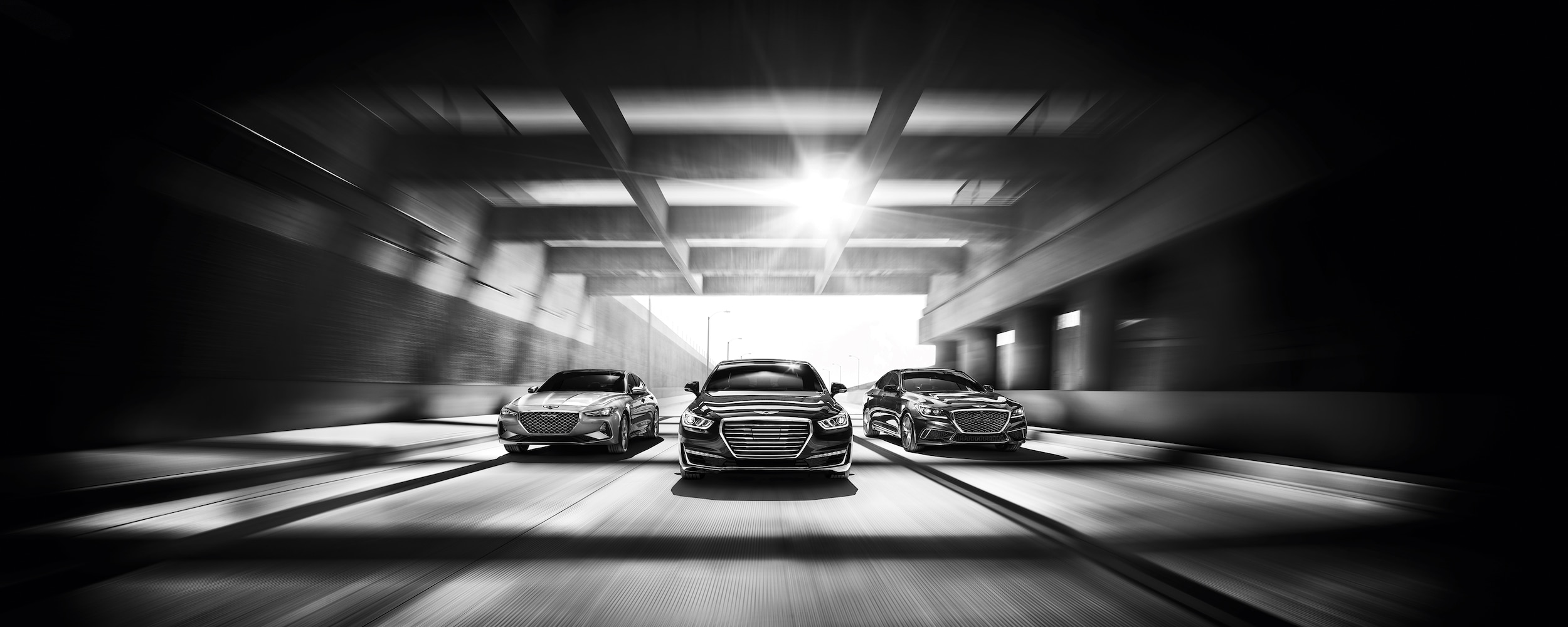 Discover the 2021 Genesis Lineup
You are no ordinary driver. You prefer to let your wheels do the talking. You command nothing but the finest vehicle on the streets of Baltimore. That is where the lineup of Genesis models in Gaithersburg comes in. The lineup of Genesis models from Genesis of Gaithersburg represents elegant sedans and crossover. Consisting of just four models but a variety of configurations, a Genesis model is waiting to enhance your sophistication. You deserve nothing but the best, and that is what you'll find in Gaihersburg.
---
---
Which Genesis Model is the Right One for You?
The roster of Genesis models is simple. It consists of the head of the small luxury car class, the Genesis G70, the elegant midsize Genesis G80 sedan, and the large and luxurious G90 sedan. New to the team is the exquisitely versatile and classy Genesis GV80. Each of the four available Genesis models shine for Washington DC drivers who want something more from their luxury car or crossover. It comes down to how much space or power you desire. The team at Genesis of Gaithersburg is more than happy to help you discover the perfect luxury vehicle for your travels across Baltimore.
Test Drive A Genesis Car or Crossover from Genesis of Gaithersburg
The best way to find out which is right for you is to take a Genesis for a test drive. Once you get behind the wheel, you will know if you can enjoy Washington DC in the G70 or if you need something larger like the G90. Step on the gas and feel the power of your favorite Genesis mode. Our team can be there for you every step of the way as you search for your ideal luxury car. Or browse through our selection online and explore financing and lease offers available for the one that catches your eye. Our financing specialists know how to get you the best deals for your luxury sedan.
---
Genesis Sedans
Genesis G70
The smallest member of the Genesis lineup does not surrender anything in terms of elegance. It is also one of the newest additions to the sedan lineup. It provides an abundance of power from two energetic powertrain options, including a robust twin-turbo V6 engine. When it comes to standard features, this small sedan has them all. You can enjoy every voyage in the opulent cabin of the Genesis G70 from Gaithersburg.
Genesis G80
The more established member of the lineup is the midsize G80 sedan. It shines in pretty much every category you can imagine. Its first-class cabin lets you enjoy every mile you drive across Baltimore. Rich leather upholstery and real wood accents are the starting points. A proximity-activated hands-free trunk speaks to its efforts to make each aspect of driving this beautiful machine easy and convenient.
Genesis G90
Refined power comes packed inside this large-class sedan. It was designed with your style in mind while still considering the precious cargo you will likely bring with you. Nappa leather seats bring you a great baseline of its elegant cabin. When you think of a safety feature, it is likely packed inside this smooth-sailing and stylish sedan. The G90 is the Gold Standard when it comes to large luxury cars.
Genesis SUVs
Genesis GV80
The newest member of the Genesis family is in its freshman. This midsize crossover will soon be on every driver's lips from Washington DC to Baltimore as the SUV of choice for the swells. As versatile as it is elegant, it starts with a 300-horsepower turbocharged four-cylinder engine and a monstrous 14.5-inch infotainment touchscreen. You've never seen navigation as clear as you will on the eight-inch digital gauge cluster with vibrant graphics. This three-row crossover will have you re-thinking what you consider a luxury, family-moving SUV.