The 2022 Genesis G80 in Gaithersburg MD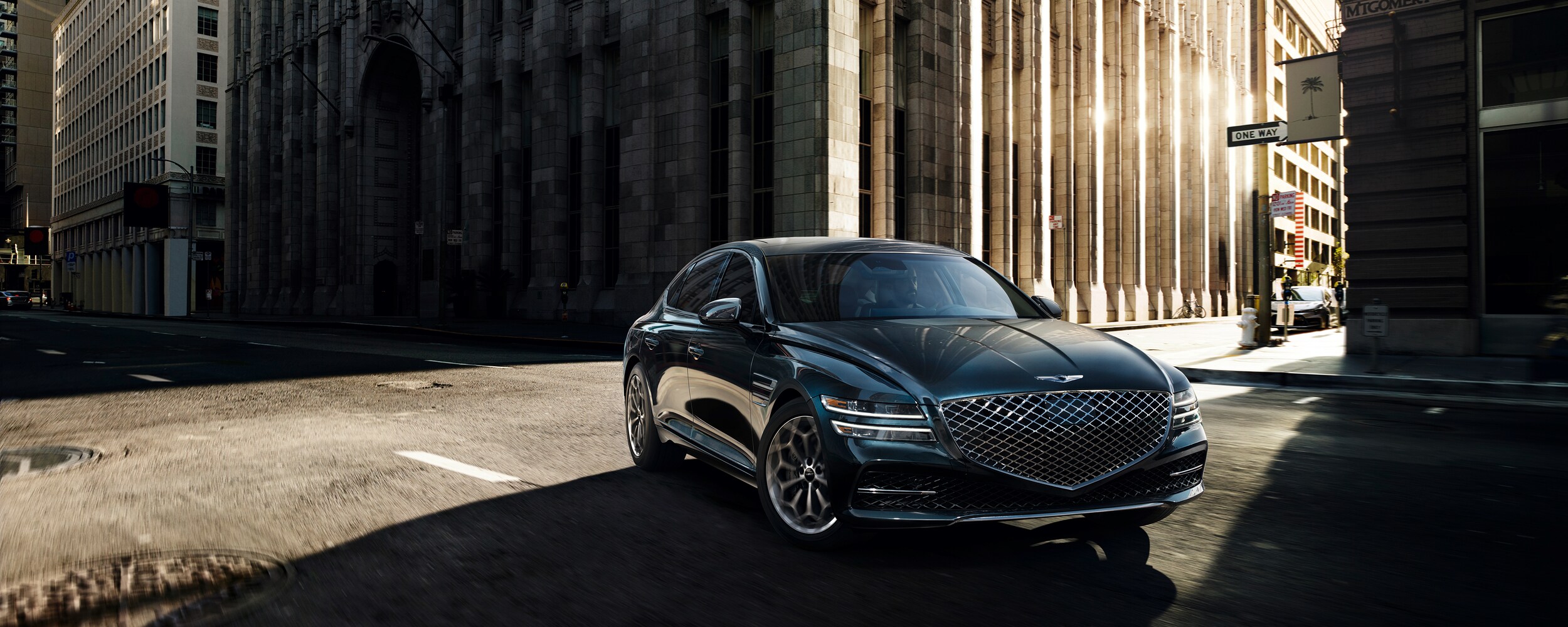 Experience Luxury in the 2022 Genesis G80
The 2022 Genesis G80 is easy to like if you are in the market for a luxury midsize sedan. The Genesis brand is renowned for manufacturing elegant sedans, with several of its models winning car of the year awards in the past. It hopes to meet similar fortunes in the 2022 Genesis G80 by improving the previous model year.
For 2022, the G80 will offer a performance-oriented 3.5T all-wheel-drive Sport trim alongside a rear-wheel steering and sport suspension. Its striking exterior and posh interior will excite buyers with an eye for luxury, while its premium infotainment system outshines the larger G90 and smaller G70 models. Choose the 2022 Genesis G80 today and drive around Baltimore with ultimate style and comfort.
Performance
The 2022 G80 has a standard 2.5-liter turbo-four engine under its hood and delivers 300 horsepower and 311 pound-feet of torque. Depending on your preferred performance and fuel economy, you will choose between rear-wheel-drive and all-wheel-drive systems. Acceleration is impressive in the all-wheel-drive model that hits 60 mpg in only 5.9 seconds. Driving the front-wheel model in Gaithersburg returns 23 mpg on city drives and 32 mpg on highway cruises.
On the other hand, the all-wheel-drive model returns 22 mpg in city driving and 30 mpg on the highway. If you are a fan of thrilling drives, the 3.5-liter twin-turbo V6 engine is the ideal choice. It delivers 375 horsepower and 390 pound-feet of torque, sent to an all-wheel-drive system via an eight-speed automatic transmission. With the all-wheel-drive V6 model, you will get to 60 mph in 5.2 seconds and enjoy 17 mpg on city driving and 26 mpg on highway drives. Speed enthusiasts will love the athleticism in the 2022 G80, which outclasses most famous brands in offering value for money in a luxury sedan.
Safety
With its ten airbags in the cabin, the 2022 Genesis G80 guarantees maximum safety for all occupants as you head to Washington DC. It includes front and rear airbags, knee airbags, curtain airbags, and a rare center side airbag. Besides, it boasts a list of driver-assistance features, including a forward collision-avoidance assist, lane following assist, blind-spot monitoring, and adaptive cruise control. Additionally, the new model has front and rear parking sensors, rear cross-traffic alert, highway Driving Assist II and high beam assist. Selecting an upper trim model involves a surround-view monitor, blind-spot view monitor, and remote start parking assist.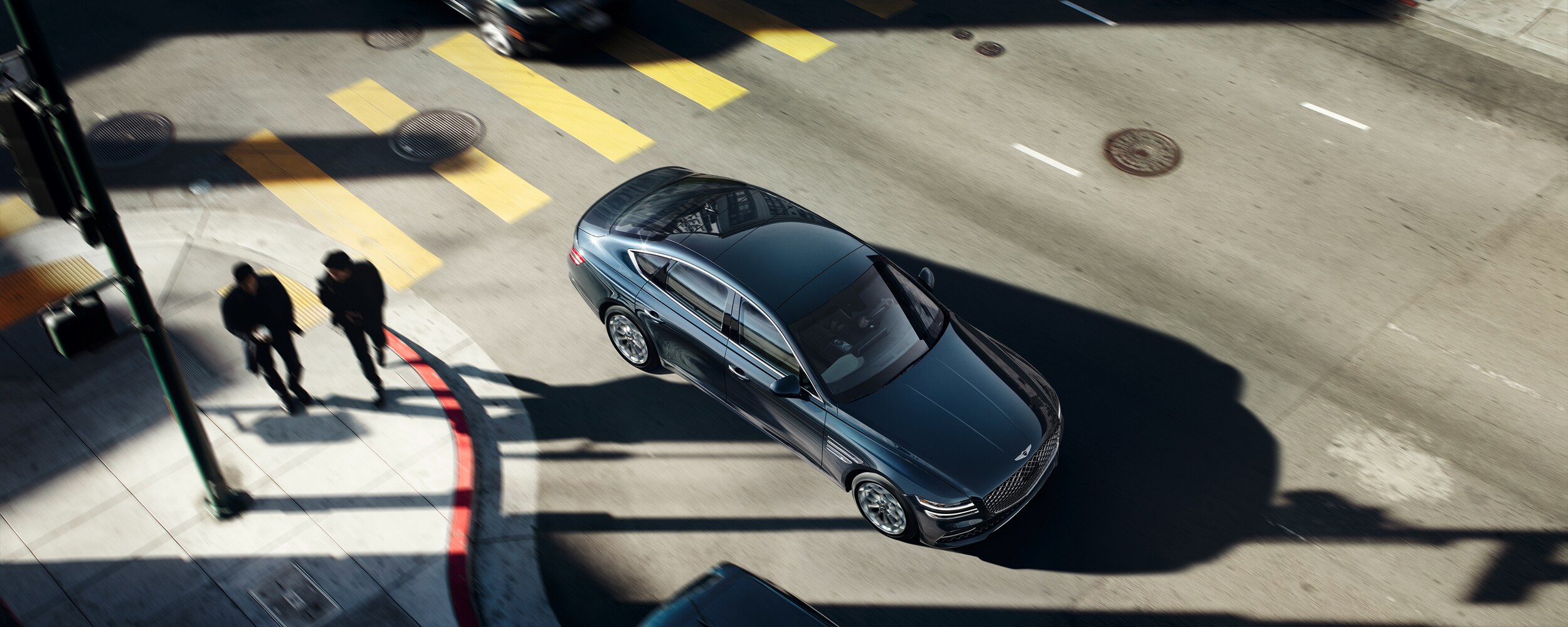 Technology
The 2022 G80 has numerous tech-based features to guarantee a comfortable drive as you head to Alexandria, VA. The new model has a 14.5-inch touchscreen with a circular controller, voice commands, and steering wheel buttons on the infotainment front. It supports Apple CarPlay and Android Auto and pairs with a powerful Lexicon audio system. It also offers a 12.3-inch digital cluster display that keeps you informed of the vehicles operating dynamics. You will love the enhanced comfort in the 2022 G80, courtesy of high-tech features including heated and ventilated seats, dual-zone climate control, and wireless device charging.
Trim Levels
The 2022 Genesis G80 is available in various trim levels, including the 2.5T, 2.5 Advanced, 2.5T Prestige, 3.5T Sport, and the 3.5T Sports Prestige. 2.5T models offer leatherette upholstery, heated front seats, 18-inch alloy wheels, 12-way power front seats, and an eight-inch cluster display. 3.5T models improve on the 2.5T trims, and offer 19-inch alloy wheels, a wireless charging pad, ventilated front seats, leather seat upholstery, and real wood interior trim. The Sport trim has a model-specific seat quilting, three-spoke steering wheel, and carbon-fiber or standard aluminum interior trim.
Test Drive the 2022 Genesis G80 at Genesis of Gaithersburg
In your search for a luxurious midsize sedan around Arlington, VA, consider visiting Gaithersburg and browse our lineup of the 2022 Genesis G80. Apart from browsing our vast lineup, we also allow interested buyers to test drive their preferred models at our showroom. For more information about the 2022 G80, please contact us today.