The 2022 Genesis GV70 vs. Genesis GV80 in Gaithersburg MD
Choosing the Best Luxury SUV: Get to Know the Genesis GV70 & the Genesis GV80
With more and more drivers in the greater Baltimore and Washington DC area choosing to invest their vehicle-shopping dollars in SUVs these days, and a huge variety of possible options available in dealerships, choosing the best one for your needs can be a challenge. But when you want the highest level of luxury around and impeccable craftsmanship in every inch, Genesis is the only brand to consider, and Genesis of Gaithersburg can introduce you.
Genesis is a brand name whose name has become synonymous with world-class refinement and elegance, and they produce not one, but two impressive SUV options for your consideration. To help you understand what sets the Genesis GV70 apart from the Genesis GV80, and to help you choose the best one for your needs, we've highlighted some of their similarities and differences for you here.
Side by Side, the Genesis GV70 vs. the Genesis GV80
Size. Glancing at these two SUVs side by side, the most obvious difference is their size. The GV70 is a compact SUV that has two rows of seating and accommodations for up to five people. But the GV80, on the other hand, is a midsized sedan that measures 9 inches longer and 3 inches taller than the GV70, and it also has a wider wheelbase than the smaller SUV.
Seating. The difference in their exterior sizes comes into play when you look at the inside of these two models as well. The larger GV80 has a more cavernous interior, which allows for an optional third row of seating to be added. Increasing capacity from the standard five people to seven, this third row is useful and can come in handy if you have a larger family or a few friends to bring along from Arlington, VA to Alexandria, VA. The GV70, however, is strictly a five-passenger model with no other seating options available.
Cargo space. Depending on your needs when it comes to cargo, the GV70 can hold up to 28.9 cubic feet, while the GV80 holds 34.9 cubic feet. Both models offer the flexibility and versatility of folding seats and a spacious SUV cargo hold but adding on the third row to the GV80 will cut into your available cargo space if all seats are in place.
Passenger space. With or without the third row added on, you'll find that the larger GV80 offers a little more interior space to stretch out in. The midsized SUV has more headroom and legroom, regardless of which row you're in.
Efficiency. Both SUVs offer a variety of engine options to choose from. But the smaller GV70 is a little better on gas, with base models delivering around 22 mpg city, 28 mpg highway, and 24 mpg combined, compared to 21 mpg city, 25 mpg highway, and 23 mpg combined for the larger GV80.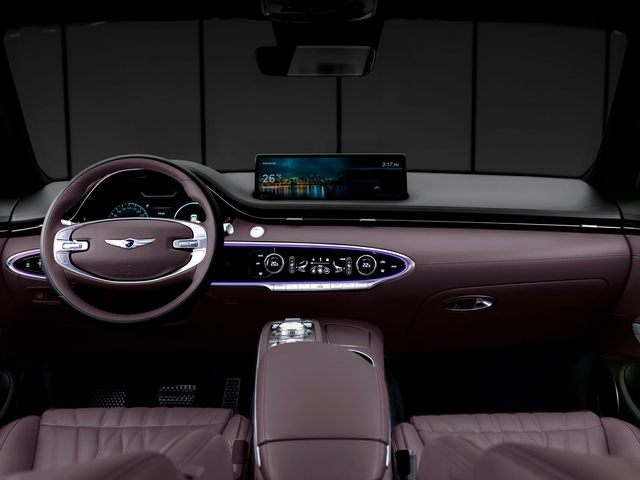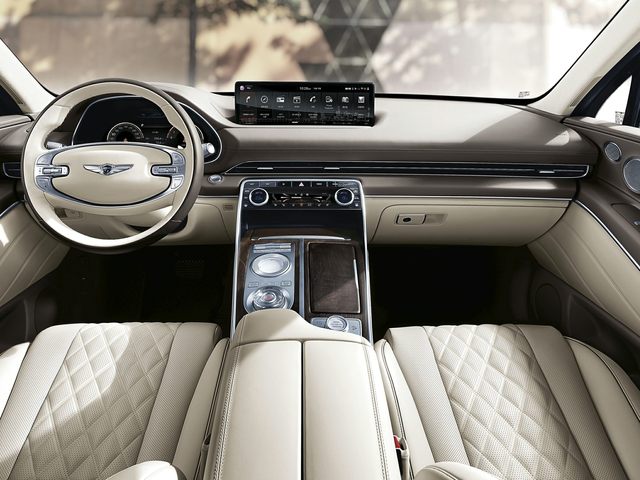 You might prefer the Genesis GV70 if...
...you want an SUV that has great gas mileage and takes you further between fill ups.
...you want maximum luxury and features for less money, as the GV70 starts at around $41,000, while the GV80 starts at around $50,000.
You might prefer the Genesis GV80 if...
...you're looking for an SUV with a third row of seating and space for up to seven people.
...you enjoy the space and versatility of a midsized SUV with more interior room than compact options.
Meet Your Next Genesis SUV in Gaithersburg
The best way to determine which luxury SUV us the right fit for your Washington DC drives is a test drive. To that end, we invite you to take a closer look at the options we have in stock and to visit us to meet and experience Genesis engineering firsthand.
Make an Inquiry
* Indicates a required field